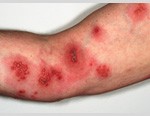 Shingles, also known as herpes zoster, is a viral infection of a nerve and the  skin supplied by the nerve. It is caused by the varicella-zoster (chicken pox) virus which lies dormant from childhood.
The symptoms of shingles include a blistering skin rash and pain. It occurs in the area of skin supplied by the infected nerve which is usually on the trunk may involve the eye and facial area. Pain (post herpetic neuralgia – PHN) may last for months or years even after the rash has healed and is very debilitating and affects quality of life.
Shingles occurs at any age, but the over 50s are considered at greatest risk . A vaccine against the varicella-zoster virus has become available in Ireland and is highly effective in preventing shingles and its associated complications.
In the UK there is a mass immunisation programme for the over 70s which is funded by the NHS which started in 2013. It is hoped that the HSE will provide a similar service in the coming years.
Whitemill Medical Centre is pleased to announced that Zostavax is available for all patients over the age of 50 years.
For more information on Zostavax telephone 053 914 0000 or complete the On-line Contact Form.
Cost €250.