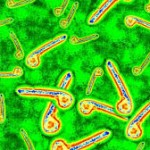 Ebola continues to be a serious public health problem in West Africa although there has been success with Nigeria declaring Ebola-free recently.
If you are worried you have contracted Ebola because you have returned from a high risk area or been in direct contact with a person who has contracted Ebola, you should telephone your GP or local Emergency Department for advice.
DO NOT VISIT your GP or Emergency Department unless you have been advised to do so by the  health facility concerned!